The Arab Spring is a term used to describe the uprisings which took place in the Middle East starting in 2011, and which came to a head sometime toward the end of 2013. The expression Arab Spring is a piece of propaganda by itself, with plenty of geopolitical implications in just two words. The period it describes was rife with other propaganda which is still being rampantly spread today. The reason this propaganda, which would typically die off after the end of a revolution, is still so widely consumed is due to the power of the internet. Propaganda featured heavily in the revolutions of countries such as Egypt, Libya, Syria, and Tunisia. Messages of anger, hope, freedom, oppression, and war have been more widely viewed during the Arab Spring than at any other time in history. Propaganda in the Arab Spring has been produced and consumed differently and more questionably than in any past revolutions because it harnessed the power of the internet and social media.
In my project I focus on giving an overview of propaganda used during the Arab Spring. I go over who used it, when, what the message was, and what tools were used to spread this information. For example, I have already discussed that the term Arab Spring is a piece of propaganda in itself. The phrase was first used in 2005 to refer to short lived pro democracy movements in the Middle East. It became mostly unused until 2011 when a political magazine used the term to discuss the growing civil unrest in the Arab world. Calling these revolutions the Arab Spring is very popular in the West because the phrase is meant to imply new beginnings and positive growth, because it sounds pleasant and uplifting. However, many Arab activists and intellectuals are uncomfortable with the term because they know the revolts could mean very rough times ahead for their nations.


From that jumping off point, I delve deeper into propaganda usage during that period. From the very beginning of the Arab uprisings, people were skeptical about what impact the internet and social media would have on the spread of political messages and misinformation. Some stories became viral and were used as fuel for the Arab Spring fire, but they sometimes had incorrect information tied in with them. For example, many people have heard the story of Mohammed Bouazizi, a Tunisian street vendor who lit himself on fire after being repeatedly abused by government officials. While that general information is true, when the story was first spread, it was reported that he was a university graduate who could not find work. However, he had never even quite finished high school. While this doesn't mean the story has no power, it is an example of how misinformation can be used as propaganda to enhance a message and how it can proliferate easily in the modern age.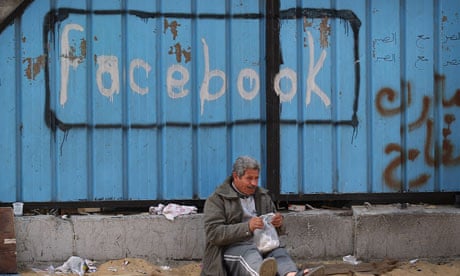 In Syria, cyber warfare was in full swing during the revolution. People would spam others who had conflicting political views, the government would crack down on people who spoke out against them online, and news organizations' accounts were hacked. The government even used phishing tactics by setting up fake internet portals to steal the accounts of average citizens. Elsewhere, like in Egypt, social media propaganda very successful in rallying the people. After 28 year old Khaled Said was beaten to death by policemen in June 2010, an image of his brutally mangled face went viral online. An internet activist, Wael Ghonim, created the Facebook page "We Are All Khaled Said" and it quickly became a hub to share information about the revolution and organize protests against the Egyptian government. It helped in the fight to finally end the 30 year dictatorship of Hosni Mubarak.
Throughout history, street art and graffiti have been used to share opinions and criticize those in power. Before the Arab Spring, this type of political art was not commonly seen in the Middle East. During the revolutions it became prevalent in most major cities of those countries affected. Not only that, but thanks to the internet this propaganda which would normally have to be seen in person is readily available to view online. It is also worth noting that propaganda surrounding the Arab Spring is not only distributed and viewed in the Middle East. In fact, much of what we see on American and Western news programs could be considered propaganda. We typically only hear news about successful air and drone strikes, not those which miss targets or kill civilians. We hear about it whenever ISIS does something bad, but not when an allied or oil rich government commits atrocities against its own people. Just because we are not in the Middle East does not mean we as a people do not create and consume our own forms of Arab Spring propaganda.
With the world wide web, propaganda can now be created and spread anywhere with alarming speed. Even in Libya, the country with possibly the worst internet in the world, social media's ability to carry shocking and informative messages and video footage in and out of the country is impressive. The phrase Arab Spring may be propaganda itself, but the use of such propaganda during this period has also ensured that the spread of information during times of conflict and uprising will never be the same again. I will end with my favorite uplifting, possibly propaganda rife video from the Arab Spring in Libya, brought to you by NATO.